Overview
A pump is too important for the pool or pond care. Many ponds need some kind of pump to strengthen a filtration system, water feature, or circulation.
The water pump is beneficial and effective for a pond that keeps your fishes and water plants healthy and clean.
The water pump assures constant water circulation and a way of developing the essential oxygen provides as good as easily pumping the water.
The three (centrifugal, axial flow, and positive displacement) common kinds of pumps utilized for yard water pumping.
The direction of water flow of the fluid changes by 90° degrees as it flows over impeller in centrifugal pumps whereas the direction of water flow is unchanged in axial flow.
A positive displacement pump shifts a fluid by continually encompassing a limited volume and moving it mechanically through the technique.
Which kind of pump size is best for your pond? It depends on how much gallon water exists in your pond.
In this article, we show you the best pond pumps with their size, voltage, water volume, flow rate. For better pump performance you should exactly know water volume.
In the case, of a 1000 gallon pond, then those pond pumps who rated at a minimum of 500 GPH (Gallons per hour) are best for it.
If a fountain or pond has a skimmer or waterfall, the water must be turned almost once every hour. Therefore, if you have more gallons of water (up to 1000 GPH) you prefer the same GPH rated pump.
Lots of people are satisfied and happy. They share their experience in the best pond pump reviews.
---
Best Pond Pumps [Top 12 Picks]
---
1) JEREPET Pond Water Pump
Check Price & Reviews On Amazon
The JEREPET pond pump is best for a heavy-duty waterfall, pond, fountain, hydroponic, and also filter system that it has wanted energy to move huge amounts of water through.
The pond pump is easy to install and use. The portable handle helps to take and move to anywhere. The external side of the pump is made of long-lasting plastic.
The inside of pump asynchronous oil-free 200 watts power motor fitted that works quietly and silicone O ring, removable vortex impeller with ceramic shaft for continual and problem-free use.
---
Related Post: 6 Best UV Sterilizer For Aquarium
---
The pump cover and intake filter screen and two barbed multi-hose adapters with adjustable rotating ball adapter. The long 33 ft wire cord with US type 3 pin plug is durable and certified.
This pump provides different (1ft-1000 GPH, 5ft-2200 GPH, 10ft-1350 GPH, 15ft-450 GPH) flow rate on different ft. Otherwise it has a maximum flow rate of 3100 GPH, (12000 LPH).
The free filter barrier bag also includes a packet that is best for preventing debris like leaves and other small things that can block pumps during use.
Pros & Cons
Pros
Durable Asynchronous Motor
Easy Installation
Portable Handle
Rotor / Impeller
High Lifting
Max Flow Rate 3100GPH
Cons
---
2) YCTECH Fountain Water Pump
Check Price & Reviews On Amazon
The YCTECH water pump is best for fountains, statuary, Hydroponics system, indoor and outdoor ponds, and aquariums that provide great water circulation.
With the multifunctional pump, you can create different effects (Champion, Mushroom, Stylar, and volcano mode) with various types of nozzles. The flow controller button is also available in it.
The 8 watts power 100% copper wire motor is low power consumption, durable, works quietly and smoothly, and also best for the night. The impeller shaft is reliable during long periods because that is made of stainless steel.
The YCTECH pond pump is easy to install and in cleaning. For better pump performance clean it daily the small debris also can block it.
ABS plastic materials are used in manufacturing. It has a 16 ft long wire cord and 4 suction cups and footpads, nozzles that are easy to fitting and removing during cleaning.
It also has a 1-years warranty. This pump can be replaced and repaired during the warranty. If you are not satisfied with the product you can back your money or new product in 30 days.
Pros & Cons
Pros
Different Mode
3 Nozzles
Copper Wire Motor
Flow Regulation
Multi-Functions
Cons
No Carrying Handle
Two Prong Plug
Perfect For Small Pond
---
3) TotalPond Waterfall Pump
Check Price & Reviews On Amazon
The TotalPond pump is designed for ponds, fountains, tanks, and gardens that are available at an affordable price with great features.
The long-lasting plastic material makes it reliable. The max flow rate is 1200 GPH and small water flows height up to 5 ft.
The energy saver pump has back-spitting features that cool the pump. The powerful, energy-saving motor works smoothly and silently.
All parts are easily installed and disassembled. If small stones or debris are stuck in the pump, you can easily clean the pump after removing the front cover.
The mesh barrier pump shield also includes a pump that prevents the pump from being damaged and debris.
Pros & Cons
Pros
Easy Maintenance
Smooth And Silent
1200 GPH Waterfall
Complimentary Pump Shield
Powerful Motor
Pumping Height 14 Ft
Cons
---
4) Simple Deluxe Water Pump
Check Price & Reviews On Amazon
The Simple deluxe water pump is greatly suitable in a fountain, fish tank, hydroponic, pond with strong power and 8.5 max high lift.
This water pump is made of plastic, ceramic, metal copper, material that is durable and long-lasting. The waterproof 15 ft wire cord with three-prong plugs.
The pre-filter included in it prevented debris from entering the pump and also extended pump life. The flow control option also includes an otherwise maximum flow rate of 400 GPH.
---
Related Post: 8 Best Substrate For Betta Fish
---
The powerful water pump has different sizes of 5 threaded nozzles and 4 suction cups that easily stick with the bottom or side of the tank or pond and do not move.
The simple deluxe water pump has an economical, and reliable, 54 watts powerful, the copper motor that runs silently and smoothly.
All parts easy in assembly before use and easy in disassembled installation for cleaning the pump. The polished Aluminum Oxide ceramic impeller shaft conserves long-life pumps.
Pros & Cons
Pros
Cheapest Price
400 GPH Flow Rate
Durable Quality
Adjustable Flow
4 Suction Cups
8.2 High Lift
15 Ft Cord Length
5 Threaded Nozzles
3 Prong Plug
54 Watts Power
Cons
---
5) GROWNEER Water Pump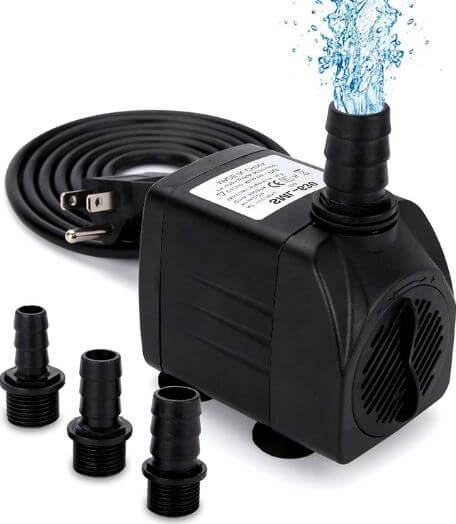 Check Price & Reviews On Amazon
The Growneer water pump is compact in size and powerful in performance. It can be used for multiple uses (pond, tank, hydroponics, & fountain).
The maximum flow rate 550 GPH (2000 L/H) and a strong max lift height of 7.2 Ft (2.2m) with UL certified and water flow control that you can adjust as your choice.
The Growneer pump is easy to use and clean. The three different inch nozzles give various water flows as you wish. Before connecting the pipe with the nozzle make sure nozzles are sealed tightly.
The small pond pump has a 5.9 ft long length waterproof power cord with 3 prong plug for easy installation and 4 individual non-slip suction cups with a great stick on the bottom or side of the pond that keeps it at a place.
The 30 watts power motor is available inside that is safe, durable, ultra-quiet. The front cover has thin gaps designed to prevent debris from blocking the pump.
This Growneer water pump is made of high-quality plastic materials that are very lightweight and easy to use and fit anywhere in the tank.
Pros & Cons
Pros
550 GPH Flow Rate
Strong Power
3 Nozzles
Suction Cups
5.9 Ft Power Cord
Detachable & Cleanable
Adjustable Flow
Ultra Quiet
Compact Design
30 Watts Power
Cons
---
6) Aquascape AquaForce Pond Pump
Check Price & Reviews On Amazon
The Aquascape pond pump has a different wide, flat shape cage design that is easily stable at the bottom of the pond. The durable pre-filter cage design prevents blockage.
The asynchronous, powerful, and durable energy saver motor works quietly and effectively that gives high torque, problem-free performance.
The rotational ball output fitting provides a pump flow position that is easy to adjust and great for all size and shape fountains, ponds, and tanks. The 1.5 inch and 2-inch multi-hose fittings are also included.
The AquaForce pumps have a very powerful 1070 GPH flow rate and maximum head height of 10 ft. It has a long waterproof wire cord.
The Aquascape water pump has a 3 years efficient warranty. This is a great option for pump buyers. They can be replaced or repaired with a warranty.
The AquaForce pump works long-lasting and is easy to use and install. You can easily clean the pump after opening the cage.
Pros & Cons
Pros
Asynchronous Motor
Solid Handling Filter
1070 GPH Flow Rate
Pre Filter Cage Design
3-Years Warranty
Rotational Ball Output
Maximum Heights Rate
Wide & Flat Shape
Cons
No Remote Control Included
No Adjustable Flow Rate
---
7) TetraPond Water Pump
Check Price & Reviews On Amazon
The TetraPond pump has a compact design but gives a powerful and effective performance. It has a 3 years limited warranty.
The compact pond pump has a 12 ft waterproof wire cord and safe portable handle for easy carry and set down in the pond.
The TetraPond pump is best for small ponds, fountains, and tanks. The magnetic drive water garden pump has 17 power watts motor that runs silent and energy-efficient.
It has a 325 GPH flow rate and gives 325 GPH on 1 ft, 290 GPH on 2 ft, 250 GPH on 3 ft, and 150 GPH on 5 ft maximum flow rate.
The ½-inch and ¾-inch two adapters also include that easily adjust tubing in diameter. The TetraPond pump has reliable magnetic technology allowing efficient power pumping to your tank, pond, or fountain.
Pros & Cons
Pros
3-Year Warranty
17 Watts Power
12 Ft Power Cord
325 GPH Flow Rate
Adapters Included
Reliable Magnetic Technology
Energy, Efficient
Low Price
Cons
---
8) FREESEA Water Pump
Check Price & Reviews On Amazon
The FREESEA water pump has low water levels designed in ponds, fountains or waterfalls, aquariums, and hydroponic systems. It has a 5.9 ft long length wire cord.
The garden pond pump is made of high-quality plastic material that is long-lasting and durable. The low power 60 watts motor is available in it that is efficient and best energy saver.
The 4 different (½", ⅔" ⅘", 1.0″) sizes nozzles also include with FREESEA pond pump. It has an 840 GPH powerful flow rate and 9.2 ft max lift height.
If small debris, stuck in the pump. You can easily clean it before use. The 4 suction cups are stuck with the pond bottom and keep it pumped at a place and safe carrying handle also available in it.
The Freesea pond pump has a 12-month efficient warranty. Otherwise, it is durable and reliable but if you have any problem you can replace or repair the pond within the warranty period.
Pros & Cons
Pros
60 Watts Power
Ultra Quiet
Portable Handle
5.9 Ft Power Cord
4 Nozzles
4 Suction Cups
Copper Wire Motor
840 GPH Strong
12-Month Warranty
Cons
---
9) TRUPOW Pump
Check Price & Reviews On Amazon
The Trupow pump has a compact design great for multiple uses and available at a very reasonable price with outstanding features and benefits.
The 140 power watts motor runs silently and is an energy saver. The 16.4 ft waterproof long length cord keeps water electric shock-free.
The high-quality ceramic material is used in manufacturing that is long-lasting. The max flow rate of water 4226 GPH and the max delivered height 24.6 ft.
The different 1″, 1-1/4″, 1-1/2″, 2″ hose adapter also includes a pump that is easy to assemble and it is very simple in cleaning pumps.
The pond pump has a unique locked rotor option in it that gives excellent protection, directly cutting off the power supply when the impeller stops.
Pros & Cons
Pros
140 Watts Power
14.6 Ft Power Cord
4226 GPH Flow Rate
Easy Operate
Energy Saving
Ultra Quiet
Ceramic Material
Compact Design
Locked Rotor Protect
Cons
---
10) Alpine Corporation Pond Pump
Check Price & Reviews On Amazon
The Alpine corporation is best for a waterfall, pond, fountain, and filtration pump that can be used in horizontal and vertical style for versatile installing.
The Alpine pond pump has a 33 ft extra long wire cord with 3 prongs plug from other pumps and it is made of long-lasting plastic material.
The 276 watts powerful motor and vortex-high performance impeller is also energy efficient and 4 multi hose adapters are also included with the pump.
The large pre-filter is easy to disassemble with any tool for cleaning and trouble-free in use. The 3-years warranty on Alpine pond pump.
The Alpine pond pump has an oil-free design with a ceramic impeller shaft makes it durable, long-lasting, and prevents damage. It has a 3100 GPH flow rate.
Pros & Cons
Pros
Large Pre-Filter
Water Resistance
Ceramic Bearing
3-Year Warranty
3100 GPH Flow Rate
Horizontal & Vertical Works
33 Ft Wire Cord
Efficient Energy
Safe Portable Handle
Cons
---
11) Yuanhua Submersible Water Pump
Check Price & Reviews On Amazon
The Yuanhua water pump is suitable for ponds, fish tanks, fountains, hydroponic system,s and spouts that are the best water circulating source.
The unique feature in it is that when the pump gets a high temperature, the pump automatically powers off. You no need to worry about the pump temperature.
The silent 42 watts motor exists inside a pump that runs smoothly and quietly. The ultra-silent pump can be used 24 hours without disturbing anyone.
Yuanhua pond pump is also low power consumption (energy saving) and has a maximum flow rate of 1100 GPH and max lift height of 5.9 ft.
The pond pump has a long 11.5 ft power cord for electric supply and 2 different size nozzles for your choice and 4 suction cups that keep the pump at a place in the pond.
Pros & Cons
Pros
Ultra-Silent Motor
2 Nozzles
4 Suction Cups
11.5 ft Power Cord
ETL Approved
High performance
Wide Application
Reasonable Price
1100 GPH Flow Rate
Cons
---
12) COODIA Submersible Pump Pond
Check Price & Reviews On Amazon
The Coodia pump is available at a low price with outstanding performance and reliability for the fountain, pond, or indoor and outdoor landscape.
The detachable color-changing LED lights gives gorgeous and beautiful effects and look. The Coodia pump has 4 multiple spray patterns.
The durable and silent motor and ceramic magnetic rotors are also available in it. The flow adjustable knob has a max flow rate of 660 GPH and a maximum height lift of 2.3 m.
An inside sponge filter is added inside that prevents pump clogging and makes it safe from damage. The cleaning of the pump is very easy.
The Coodia submersible pond pump has a unique, space saver design from all other pumps. The electric wire cord has a 1.9 m (6.2 ft) in length.
Pros & Cons
Pros
4 Water Patterns
RGB Color Change Lights
660 GPH Flow Rate
Energy Efficient
Wide Application
1.9 Meters Wire Cord
Sponge Filter
Easy Assembled
Cons
---
Specifications You Should Consider
Material
The high-quality different types of materials (plastic, copper, metal, ceramic, and others) are used in the water pumps. Some pumps have sponge water filtration to prevent clogging.
Weight
The Lightweight and durable materials are used in manufacturing that easy portable and safe portable handles help to carry and keep in the pond.
Wire
The different sizes (10ft, 15ft, 20ft) of powerful, long length, waterproof, cord wire is used in pumps that do not damage and prevent electric shock.
Size
Pond Pump Sizing Chart helps you select the right pump.
100 to 200 Gallon – (100 GPH) Rated Pump
200 to 400 Gallon – (200 GPH) Rated Pump
400 to 700 Gallon – (350 GPH) Rated Pump
---
Related Post: 10 Best Reef Salts
---
Motor
The durable copper motor is used in a pump that is powerful and runs smooth and quiet. You can use it 24 hours without any sound problem.
Use
The pump can be used for multiple uses (fountain, hydroponic, pond, tank, or aquarium). It works best and gives great performance to all of these.
Warranty
Some pond pumps have an efficient (1,2, or 3 years) warranty on parts and motor. In the warranty period, you can replace or repair the pump.
---
Frequently Asked Questions [FAQs]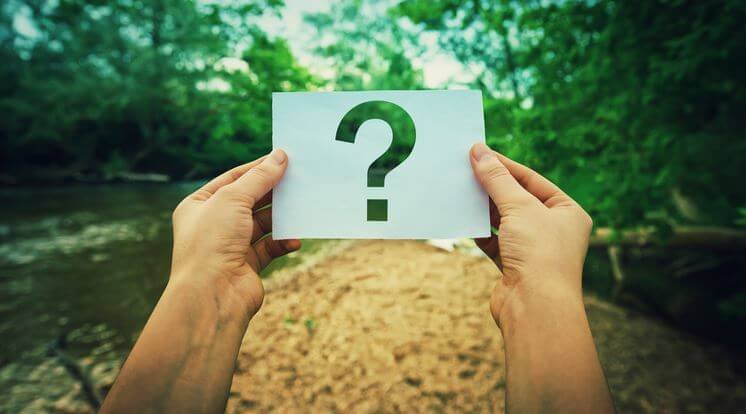 How Much Duration In A Full Day Should A Pond Pump Run?
The pond pump observed oxygen in circulating water through the filter to retain water clear in the pond that is best for fishes and water plants. Therefore the pond pump should run 24 hours a day.
Which Is The Best Pond Pump?
The Alpine pump has too many outstanding features. Great for multi-uses, reliable and long-lasting, heavy flow rate, portable handle, easy cleaning, long length of the power cord, different adapter, energy-efficient, great warranty.
Where Should The Pump Be Positioned In The Pond?
The pump placed the distance from a waterfall or filter holes reasonable to retain a constant flow of water, therefore, the deepest of the pond or the bottom of the pond, fountain, the aquarium is the right place that is easy to obtain for maintenance.
---
Related Post: 10 Best Protein Skimmers Reviewed

---
Bottom Line
After reading all pond pump reviews we compiled these top 12 small, and large pond pumps for your pond, fish tank, garden, and hydroponic system.
We show you all those best pond pumps which have many outstanding features and higher performance at a reasonable price.
All products are branded and of higher quality which works efficiently and silently. Most products have a warranty that is a great option for pump buyers. Some small pond pumps are best for your aquarium or fish tank.
If you have a garden at your house. You can select the best one for your garden from this list.
In the top 12 list, most of the pumps are designed for garden ponds pumps. Our first priority is to give all the best products at affordable prices and higher quality.